#18 ホヤって自分の脳を食べるの
知ってますか?
#18 Did you know that sea squirts eat their own brains?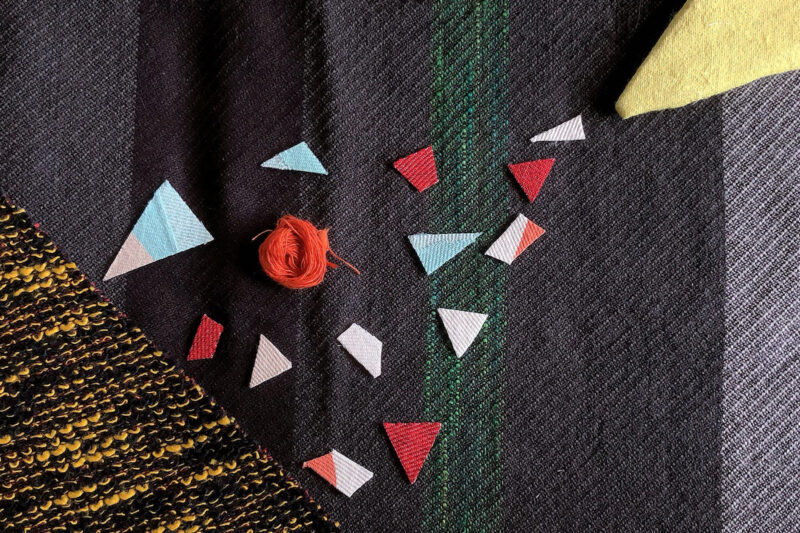 2022 . 09 . 24
私は山口県出身です。
育った環境で「ホヤ」を食べる、
という習慣がなかったので

新潟に来て、スーパーで初めて
「ホヤ」を見たとき
てっきり海藻の一種だと
思っていましたが

なんと「ホヤ」は脊索動物!!

生物の分類上では
人間に近い動物なんです。
びっくり。
だから脊椎もあるし、
脳も、心臓も、生殖器も
あるんです。

生まれた時は
オタマジャクシみたいな形で
海遊しているんだけど
成体になるまでに
海水温がちょうど良く、
餌に困らず
天敵から守られるような場所を
ずっと探すのです。

ここだ!!
という場所が見つかったら
その場所から一生動かない
固着動物となります。
そしてなんと、
固着動物になったときにホヤが
一番最初にすることは
何かというと

自分の脳を食べるんです。
自分の脳を食べるんです。
思わず2回繰り返してしまった…。

元々この世界は、
「動く」という行動を選んでいる
生命だけが
「脳」を持っています。
動かないのであれば、
「脳」は必要ない、のではなくて
「脳」の代わりを
「皮膚」と「腸」が
できでしまうのです。

賢い皮膚と、
賢い腸が残されていれば
無駄に脳に血液、栄養を
届けなくても良いとの判断で
まず自分の脳を
自分で食べるホヤ。

皮膚は
ただ体を包んでいる膜ではなく
環境を
キャッチして判断する能力を持ち
常在微生物を
育てて免疫力の戦力とし
発汗を通して
体に不要なものを排泄し
体温調整もしています。
酸素濃度を管理し、光を分析し、
音を聞いている
とんでもない機能が
報告されるようになりました。

また、腸は栄養を吸収し
便を作って出す、だけでなく
脳からの指示に依存しない
独自の判断で機能できる
神経細胞を
たくさん有している臓器です。
たくさんの常在微生物を保有し
生きるために必要な
パートナーとして
協働しています。

固着、土着することを選んだ
生命体に脳がないことは
低レベルとか、思考がないとか、
感情がないとか、
そんなことではなくて
かえって、
皮膚や腸の機能が研ぎ澄まされて
私たちの想像を超える能力を
持っている可能性があると
私は思っています。

植物も同じ。木々も同じ。

皮膚とは樹皮。
腸とは根っこ。

森の木々は
樹皮の感受性によって
環境の変化を
しっかりとキャッチし
木の命を守り
張り巡らされた根っこで
シナプスのように繋がりながら
多くの木々、さまざまな植物と
情報交換や交信をしている。
そうやって
何百年も生きることがある。
まるで長老のような存在に
思えてなりません。

私たちは森から学ぶことが
たくさんあるような気がします。
これまで人間は、
欲のままに森林を破壊し、
木々を伐採し
今は異常気候による山火事で
たくさんの森を失っています。

人間が一番偉いのだ。
この世界を人間の住み良いように
管理できるのは
人間が頂点にいるからなのだ。
そんな浅はかな考えから
私たちは軽やかに卒業して
失敗を認め、山に、森に、
学びを乞う姿勢を
取り戻して行けたらいいな
と願います。

私は山の麓に居を構えて18年。
なぜか田舎に惹かれて
選んだ場所。
窓からはいつも五頭山という
雄大な山が見えます。
多くの方から
「元気の秘訣はなんですか?」と
よく聞かれますが

私がいつもお答えするのは

「山のそばに
住んでいるからだと思います」

山に行こう
海に行こう
川にいこう
木々に触れよう
土に触れよう

生きていくために
とってもシンプルで
大切すぎること。
休日には素敵な時間を
過ごしてくださいね。
書き人いのうえまゆみ
I'm from Yamaguchi Prefecture.
I had never had the habit of eating sea squirts growing up

When I came to Niigata and saw sea squirts for the first time at the supermarket
I thought it was a kind of seaweed.

What a surprise, sea squirts are chordates!!

In terms of biological classification, they're an animal similar to a human being. I'm surprised.
So they have a spine, a brain, a heart and reproductive organs.

When they're born, they look like tadpoles and they're playing in the sea
by the time they reach adulthood, the sea water temperature is just right and they have no trouble feeding and
they're always looking for a place where they can be protected from their natural enemies.

Here it is!! Once they find a place where they become adherent animals that never move from that spot.
And what a surprise, when they become adherent animals, the first thing what they do is

They eat their own brains.
They eat their own brains.
I couldn't help but repeat myself twice…

Basically our living world chose to "move on"
only life has a "brain".
It's not like you don't need a "brain" if you don't move on but
the "skin" and "intestines" can take place of the "brain".

If they're left with a smart skin and a smart intestine, they decide that they don't need to waste blood and nutrients to the brain
sea squirts eat their own brains first.

The skin is not just a membrane that surrounds their bodies it has the ability to catch and judge the environment and also
nurture indigenous microorganisms to provide strength to the immune system, and excrete unnecessary substances through perspiration
and also regulate body temperature through sweating.
They manage oxygen levels, analyze light and listen to sound
such an unbelievable features are now being reported.

Also the intestines not only absorb nutrients and produce and release stools, but also
it can function on its own independent of instructions from the brain and
it's an organ that possesses many nerve cells.
They have many indigenous microorganisms and work together as a partner for life.

I believe the absence of a brain in a life form that has chosen to be solidly attached or indigenous is not low-level or no thoughts or it has no feelings, but that it may have sharpened their skin and intestines functions that are capable of more than we can imagine.

Plants are the same. Trees are the same.

Skin is the bark.
Intestines is the root.

Trees in the forest protect their life by catching of changing environment and their sensitivity of the bark, and
while connected like synapses by taut roots
many trees and various plants exchange information and communication.
That is how they may live for hundreds of years.
I cannot help thinking that they are like elders.

I feel we have much to learn from the forest.
Until now, humans have destroyed forests and cut down trees out of greed and now we are losing many forests due to wildfires caused by abnormal climate.

Human beings are the greatest.
The only way we can manage this world in a way that is livable for humans is because humans are the top.
We should quickly graduate from such shallow thinking and
I hope that we can regain the attitude of admitting our failures and asking the mountains and forests to help us learn.

I hope that we can admit our failures, and regain our willingness to learn from the mountains and the forests. I hope that we can regain the attitude of admitting our failures and asking the mountains and forests to help us learn.

I have been living at the foot of the mountain for 18 years.
For some reason, I was attracted to the countryside and chose this place.
From the window, we can always see a magnificent mountain called Mt. Gotouzan.
Many people have asked me, "What is the secret of your energy?"

My answer is always

"I think it's because we live by the mountains."

Let's go to the mountain
Let's go to the sea
Let's go to the river
Let's touch the trees
Let's touch the soil

It is too simple and too important to live.
Have a great time with your children.
Author ; Mayumi Inoue