niime 百科
Encyclopedia of niime
2021.7.9、tamaki niime TOKYO MACHIDA 誕生!
July 9, 2021, 'tamaki niime' Tokyo Machida store opened!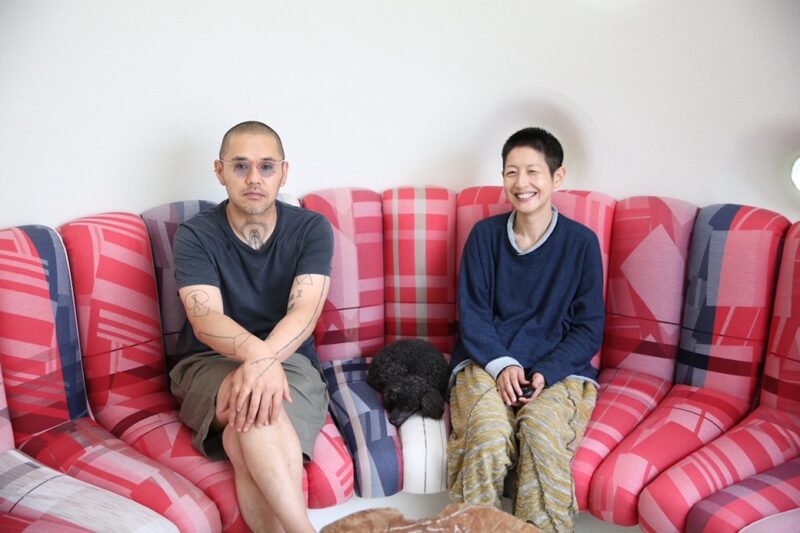 2021 . 07 . 08
今回の「niime百科」はtamaki niimeのモノづくりの心臓部=「織り」の現場でキャリアを積み、広報を担当する藤本隆太にインタビュー。

東京・町田の新店舗オープンに合わせて内覧会から1週間売り場に立ち西脇へと戻ってきた彼が、大きな新展開を魅せるtamaki niimeの現在地を澱みなく丁寧に語ってくれた。

取材に訪れたtabe room。藤本の傍、テーブルの上に並べられているのは真新しい生地とウェアのサンプル。播州織産地の織物職人たちが腕を競った個性溢れる布の数々は「tamaki niime TOKYO MACHIDA」で一般販売されているモノ。

機屋自慢のスキルとアイデアを盛り込んだ、これまでの作品とはひと味テイストが異なる生地の表情と質感が新鮮だ。

藤本「まずは玉木と石塚と僕の3人で「生地屋」のプロジェクトがスタートして、僕が窓口を担当してるんですけども。」
― はい。

藤本「そもそも、なんで「生地屋」を始めようとなったのか?と言いますと、播州織職人の西角博文さんにお話を訊く機会があって、その時に「tamaki niimeに求めること」を尋ねたら、「生地を売ってほしい。」と仰ったんです。玉木もまたその要望を知って。」
― それがひとつのきっかけとなって。

藤本「玉木は今、ウチの会社の外で西脇市や多可町という播州織の産地に対して何かできないだろうか?ということをすごく考えていて。生地の話もそうで、もともとウチは西角さん以外の播州織の職人さんたちとの交流自体が少なかったというのもあって。」
― 「織り」をはじめ自社のLab内でモノづくりが完結できる体制だというのもありますし。

藤本「それが今、色んな地元の機屋さんたちとのつながりが出来つつある中で、生地を販売することによって新たな提案が出来るんじゃないかと。あとは…播州織の産地自体がやっぱり縮小しつつあるじゃないですか?」
― ええ、そうですね…。

藤本「間違いなくこれから機屋さんの数はもっと少なくなると言われている中で、若い職人さんたち、今回この「生地屋」で一緒にやらせて頂いている大城戸織布さん、「Banshu-ori Next Japan(※)」の橋本裕司織布さんやコンドウファクトリーさんら、ウチのスタッフとも年代の近い方たちが頑張っていて、彼らと一緒にこの産地を盛り上げていきたいと取り組んでいるところなんです。」
※播州織の伝統を受け継ぐ多可町の若手織物職人6名で構成されるグループ。それぞれ独自の高い織りの技術を持ち、生地や製品の開発において切磋琢磨している、播州織の次代を担う仲間たち。 藤本「今回その3社にお願いして生地を開発していただき「生地屋」をスタートしています。先行で、町田にある「tamaki niime TOKYO MACHIDA」でウチの生地と一緒に販売してるんですよ。」
― まずは東京で。

藤本「全種類持って行って、実際に僕も内覧会から1週間売り場に立って、地元の町田の方とか都内〜関東圏の方々にウチの作品だけでなくしっかりと生地も観ていただいて、購入にもつながったというのがあって。」
― 購入は一般のお客様が?

藤本「はい。パワーのある生地なのは間違いないので、こちらでしっかりと説明することが出来れば。」
藤本と話すテーブル横に並んだ生地とウェアのサンプルに目を向ける。勧められて手に取って広げ、質感や手触りを確かめる。サンプルにはメンズのコートやジャケット、ワンピース…。

藤本「色々と取り組み始めていて、ウチの縫製チームが生地を縫ってサンプルを上げてくれてます。tamaki niimeの定番作品のカタチに機屋さんたちの生地を落とし込んでいるんです。ゆくゆくは生地の販売だけではなくて、ウェアとしての提案も必須だと思っているので。」
― 機屋さんの生地を使ったウェアについては現在試作中ということなんですね。

藤本「そうです。今回町田の直営店の売り場に立って感じたのは、生地を縫えるお客様というのは今はまだ限定的なんですよ。縫製が出来るので生地を買いたいという方はまだ少なくて、どちらかというと、縫えないけどこの生地面白い、なので買います!と。それは僕が1週間売り場で色んな方たちとお話しした中で、ほとんどの方がそうだったんです。」
― 生地自体の魅力を感じてくださっていると。

藤本「生地のチカラはすごく感じて頂いていて、でもこれどうやって使ったら良いの?というところから僕が説明してゆく流れになるんです。なので、生地で販売するっていうのはすごく面白い取り組みでありつつ、扱い方がわからないという方もいらっしゃるので、作品にも落とし込んで、両方提案出来るようにするのは重要なのかなと。」
― 具体的に作品に仕上がったカタチも観ていただくと。

藤本「それと、tamaki niimeの生地で創った作品と機屋さんの生地で創った作品、同じカタチのモノだとしても、着心地だとか風合いは全然違ってくるので、そういうところも感じてもらえる取り組みのひとつになるのかなと思います。」
― 生地をわかりやすく比べて愉しめそうですね。

藤本「あと、機屋さんの名前を生地の下げ札に印字してるんですよ。連絡先の電話番号や住所も明記したものを付けて販売してるんです。やっぱり単に生地を購入するだけではなくて、誰から買っているのかをわかるようにしたいなと考えているんです。」
― はい。

藤本「僕らが「生地屋」をやることで、機屋さんの情報もしっかり発信して、生地が面白いだけじゃなくて、面白い人たちが織っている。そんな面白い人たちが西脇や多可というところにいるんだよ、っていうのを発信したいんですよね。町田というところを兵庫県、播州織を発信するひとつの拠点として捉えて生地を置く。生地づくりのストーリーを一緒に東京まで持って行くことが出来れば、あとは回り始めれば、ウチを飛び越えて直接機屋さんに連絡が入るとかいうこともあり得ると思っていて。」
― そこは直のやりとりに発展してもらえればということなんですね。

藤本「はい。当初からそういう取り組みでやっていこうと考えています。逆に言うと、そのためには僕らがもっと頑張って発信をしていかないといけない。生地や生地を活かした作品の販売を回転させて行くことでどんどんと新しい企画を創っていかないと、というのがあるので、まずは3社の方たちとの取り組みでどう出来るのかを見ながら、今後また4社、5社…と機屋さんとの取り組みを増やしていこうと考えてます。」
― 「NEXT」のメンバーなど、それぞれに異なる技術や個性を持った生地づくりで面白くなって行きそうですね。

藤本「すごく僕らが持っていない技術を持っていて、また従来の播州織の職人さんっていうイメージとは違ったアプローチをされている方たちで、生地を自分たちでデザインするというのがひとつポイントになっているというか。」
― ええ。

藤本「やっぱりそれは何か、若い世代のこのままではいけないという危機感みたいなものも同時に感じつつ、そういう中で一緒にやってゆく取り組みというのは今後必須になってゆくと思うんですよ。この企画によって僕たちも機屋さんたちとつながって行きたいし、連携しながら新しい生地づくりをして、この産地に興味を持つ人を増やして行きたい。そこはすごく考えています。」
― 産地全体として。

藤本「あと社内的には、風合いの違う生地で特徴のあるモノがすごく上がって来るので、ウチのデザイナーがすごく喜んでいます。これで何を創ろうか?っていう意見交換をすごくしてくれてて、今回のサンプルなんかも、スカートに良いねとかこれだったらトップスだね、とかバァーッと話が盛り上がっていて。」
― すごい刺激があるというか。

藤本「そうですね。それによって同時にウチの生地の良さもわかるっていうか。機屋さんの生地の面白さと比較して、ウチの面白さってなんだろう?という。」
― なるほど。

藤本「お客様にしても、いま町田ではウチのテキスタイルにプラスそれ以外に機屋さんによる別注の生地も売っていて、それがミックスされてどちらも面白いねとなってゆく流れがしっかりと出来てくれば、僕らもこの産地で仕事を回せるというか。」
― う〜ん…。

藤本「逆に仕事を回せないとこの仕事をやってる意味がないので、ちゃんとビジネスとしても成立させて。僕らとしても、社内でもすごく刺激になるようにしたいというのがひとつ、ありますね。」
― お話を訊いて、「生地屋」という新たな事業、素晴らしい取り組みの全体像が見えてきました。藤本さんが出張して来て生地の販売もされた町田のお店の様子についてもお聞きしたいのですが。

藤本「町田店の建物は30年くらい前に建ってるんですけど、やはり印象的な建築なので、電車の窓から見てましたとか、通勤でそばを通ってたとか待ち合わせ場所に使ってたとか…地元の方たちにとっては特殊な場所なんですよね。」
― なるほど、そうなんですね。

藤本「オープンして3・4日間売り場に立ってて、地元の方のご来店がすごく多いんですよ。一度中に入ってみたかったというので、内部を見学してもらっててお話をして、こちらはどんな会社なんですか?あ、洋服やってるんですね、というところからtamaki niimeを知っていただくという流れになっています。すでにウチをご存知の関東圏の顧客様には作品をお買い求めに来ていただいているんですが、ほとんどは地元の方で、建物の中を見たくて子どもたちと一緒に来ましたであるとか、そんなお客様がすごく多かったですね。」
― 初めてで建物への関心が先行のお客様の反応はいかがでしたか?

藤本「僕がいた数日間は1時間の入場制限をかけていたので、試着の時間もなかなか取れない状態ではあったんですけど、今日は帰るけどまた来ます、というお声が多くて、その後実際にリピーターの方もけっこう来られているようなので、tamaki niimeというブランドの雰囲気を知ってもらって、それはすごくポジティヴな印象になっていると思うんですよ。」
― なるほど。

藤本「ほとんどの方はtamaki niimeを知らない新規のお客様なんですが、その中でもウチの魅せ方、ディスプレイだったりカラーリングだったり、印象には残っているのではと思います。」
― イシヅカマコトさんによる「tamaki niime TOKYO MACHIDA」の動画がYouTubeに上げられてるのを拝見したんですが、柔らかな曲線によるフォルムの、白い室内になされたディスプレイがとても印象的でした。あのカラフルな作品たちが吊るされている…

藤本「鹿の角ですね。」
― それによってtamaki niime独特の軽やかな浮遊感も表現されてるようで、素晴らしいなと思いました。"洞窟"という玉木さんの言葉もありましたけど、そんな空間の中で一点モノの作品と向き合い、対話が出来るというか。そんな雰囲気が動画からはすごく感じ取れて。

藤本「なんであの鹿の角なのか?ってゆうと、僕の個人的な解釈なんですけど、やっぱり、地元産の資材ですよね。多可町で鹿肉を使った事業の副産物としての角が今回ディスプレイのために使われているっていうのは、僕らが町田でやりたいことのひとつは、西脇だったり多可町だったり兵庫県のことを伝えるとか、播州織の地元のストーリーを伝えるっていう…」
― …地元の人間としてとてもありがたいです。

藤本「やっぱり、地元のストーリーを語らないといけないと思うんですよ。ディスプレイにしても、「生地屋」にしても、自分たちだけの空間ではないな、というのはすごく感じていて、あえて玉木がそうしてるんだと思うんです。」
― はい。

藤本「普通のディスプレイだったら多分あの空間に負けると思うんです。そもそもがすごい特徴的なデザインの建物なので。それが地下まであって、それだけでもうお腹いっぱいっていうか。」
― ええ、ええ。

藤本「その建築に対して、どうウチの作品を馴染ませていくか?それにはストーリー立てて繋げていくってことがひとつ大事なのかなと。玉木本人もあの空間の中にこちらの産地のイメージをしっかりと発信していきたいと言ってましたし、その空気感がストーリーとして伝わってゆく素材じゃないと、というのがあったのではと思いますね。」
― 地方の物産コーナー的な賑わいのアプローチではなくて、極限にシンプルなディスプレイで鹿の角を"フック"として作品があるという、すでにそこに物語がはらまれていると感じます。なんというか、押し付けがましくなくて、手に取る人が、そこからストーリーを紐解いてゆく。その傍らに案内人のようにスタッフの方が寄り添っていらっしゃるというか。そんな観る者の好奇心を掻き立てる、シンプルなアプローチを動画と藤本さんのお話から感じました。

藤本「中の空間自体はほとんど手を加えてないんですよ。生地屋の生地の部屋なんてもともと寝室で、据え付けのベッドがあって、その上に生地を並べているんです。空間自体を壊さずに、どうやってディスプレイを馴染ませるか?そこを玉木本人はすごく考えていて、東京まで車で何度も往復してディレクションをして。オープニングの直前までディスプレイの変更とかあってどんどん変化して、おそらく想い描いていたところにかなり近づいてフィニッシュしたのではと思います。」
― 「tamaki niime TOKYO MACHIDA」を訪れるのがとても愉しみですね。

次回も引き続き藤本隆太登場。「織り」の現場でtamaki niimeのモノづくりを肌身で感受・体得し、広報の立場から俯瞰の視点でブランドを観る彼との対話を通して、tamaki niimeの現在地と本質にさらに迫ります!
書き人越川誠司
At Tsurukawa, Machida City in Tokyo, there is a round soft impressive building. Some people know that the logo of 'tamaki niime' has been on that white building since before spring last year.

Since then, preparations have been going on behind the scenes, making the best of the originality of that building, matching it with the uniqueness of 'tamaki niime'. On Friday, July 9, the Tokyo HQ of 'tamaki niime' will be prepped and open to the public.

This is also another collaboration with one-and-only architectural buildings and one-item products. In the space with soft and free curves of the building, they give new expressions to one-item products of 'tamaki niime'.

I asked Tamaki and Sakai about the direct store that will soon open to high expectations in the metropolitan Tokyo area.

—— This building is called the 'TRUSS WALL HOUSE'. I heard you fell in love with this building at first sight, right?



Tamaki

Yes, we did. But before that, I have to tell you why we started looking for a building in Tokyo.
—— I see. I will follow along with your story.
Tamaki

First of all, it all started for the Olympics.
—— I see.
Tamaki

I think it was around December of the year before last.
Sakai

It was before the pandemic started because it was the year before last.
Tamaki

Yeah, we bought it last February, just before the pandemic started. We were excited to have the Olympics here in our lifetimes and wished to be close by, experience it, and hope to stay in Tokyo. So that was our first thought.
—— So, you hadn't imagined having the store in Tokyo yet.
Tamaki

We thought it would be fun if we could do something for the Olympics in Tokyo, Japan.
—— I see.
Tamaki

I had that idea on the Shinkansen to Tokyo, where I had to be interviewed. I had been refusing to have interviews except for in Nishiwaki, but I had to go to Tokyo at that time. I hadn't gone to Tokyo for discussions or presentations for more than ten years. Since we have Shop & Lab here, I didn't remotely have interviews with them. Even though I answered questions and they understood me well, I felt it was difficult to talk to them as they couldn't see our background.
—— Because you have to tell everything from your premises.
Tamaki

Yeah, because our extension scale and environment are diverse. It was hard to explain with words…and I was feeling it was getting harder. So I thought it's better to have them come to see us for interviews or give sales presentations.
—— I see.
Tamaki

It would be better to tell them in the space where all our works are lined up and give them presentations, and I thought the value of our brand would be increased. When I thought up that idea, I thought it would be good to have a store in Tokyo. During the Olympics, people come from all over the world. It's hard for people to go to Nishiwaki, but it would be nice to tell them that there is a store in Tokyo. That's the reason we opened our store in Tokyo.
—— That's how it all started.
Tamaki

And then, we searched the buildings on the websites.
Sakai

Yeah.
Tamaki

Searching the web, I found some weird buildings that came up. We were so excited to see it. We were like, "wow, interesting!"
—— Did it take much time?
Tamaki

It came up immediately when we were searching for a real state agency!
—— Did you look for a place in Tokyo to be another real estate for 'tamaki niime'?
Tamaki

I wasn't sure if it was our house or base.
—— It was originally a house, right?
Tamaki

Yeah, it's a residence.
'TRUSS WALL HOUSE' was built in 1993 by Eisaku Ushida and the late Kathryn Findlay. The white, freely curved building stands in a quiet residential area of Machida. The Odakyu line runs beside the building, and its unique appearance can also be seen from the train windows.
Tamaki

It is a round concrete building without straight lines anywhere inside or outside, even the staircase.
—— Is that so?
Tamaki

It's extremely unique.
—— Hmmm.
Tamaki

It looks like a toy. (laugh)
Sakai

Yeah, it does.
Tamaki

I had a strange feeling; it's like I got lost in an unrealistic movie world.
—— A movie world?! I can even feel that atmosphere just from looking at pictures.
Tamaki

Specifically, the second basement floor. It looks like a cave. What?! There is a cave in the centre of the city? If it were in Nishiwaki, I would feel different. But here you see the cave in the corner of a residential area in a big city.
—— So you feel a strange disconnect.
Tamaki

When we spent some time there, compared to the Shop & Lab in Nishiwaki, we noticed many different sounds with noisy trains surrounding it next to railroad tracks and many aeroplanes passing above.
—— Urban sounds.
Tamaki

We can hear people speaking when the windows are open. It's a different place for us who live in the countryside, but we don't belong there.
—— …?
Tamaki

Do you understand what I mean? Even though the surroundings create the sounds of the city, the place inside feels like a cave. So we feel a gap there.
—— In the building, you feel "unordinary", right?
Tamaki

Exactly. We feel the sounds leaking from outside are not normal. We feel like listening to the sounds in the movies.
—— There is a filter inside?
Tamaki

Yes, there is undoubtedly a filter.
—— Because you hear the sounds through the walls.
Tamaki

Having walls, we are not visually connected to the outside world, and we can't peek.
—— Are there any windows?
Tamaki

Yes, there are, but they can't see us from outside. In a way, it's an isolated space. You may not understand it if you don't experience it there.
—— Because of the round building, you may feel like being in a dome that's separated from outside, right?
Tamaki

You may feel like being in the womb.
—— You may have a feeling of being wrapped up in it.
Tamaki

So you feel instinctively secured and comfortable inside of the round space, but it's so unique because it's happening in the centre of Tokyo. I feel like, why does it exist? (laugh)
—— I see.
Tamaki

I understand if it's on a large scale building such as a museum, but this is a residence. It's too crazy. I've always loved architecture, but creating structures has more restrictions than making clothes. So I am more than surprised by the people who built this house.
—— In the case of creating buildings, they have more difficulties with restrictions and regulations involved.
Tamaki

It's incredible to know that the original owner of this house lived in this house for more than 30 years.
The owner and client of this building was the truss wall construction company, and he ordered Mr Ushida and Ms Findley to design with the technology to build his own house. Since its completion, it has gained attention by its unique construction method; however, the interior has not been opened because of the personal section.
Tamaki

I hope the people interested in the architecture come to see it since this building has become a shop.
—— I hope so.
Tamaki

Even though we fixed a little bit without changing most of the parts, we kept making the best use of them.
—— (looking at the flyer) Are the shelves where the products of 'tamaki niime' are displayed still kept as they were?
Tamaki

Yes, we keep them as they were. That's how they originally were. We discussed how we could make use of them.
—— There are round submarine-like portholes.
Tamaki

They are foggy, so we can't see outside.
—— They make us feel like being in a womb.
Tamaki

They take us back to our childhood. It's entertaining.
—— It's in Tokyo, that's a central place for many people to come and visit.
Tamaki

We initially wished to have a connection in Tokyo to Nishiwaki.
—— In a way, it's also a point of connection.
Tamaki

That's right. I used to live in Osaka, and I went to Tokyo all the time. That's why I felt we should go to cities to get high-quality information. But when I started making products, I had to zero in and concentrated on my creation. So I thought I finished gathering information and stayed in Nishiwaki to focus on creating products.
—— You dared not to go out but stayed inside.
Tamaki

But I want our young staff to know the scale of the world and have their own goals. Having a shop in Tokyo would allow us to let our team sell in Tokyo for a day, and the next day, they could see various good things in Tokyo. I think this is a good base for educating staff and developing our creativity.
—— Not only getting information from the internet, but you can also have opportunities to come into direct contact with good products in Tokyo.
Tamaki

I think there are definitely many opportunities to see and get to know things in Tokyo. I think we should encourage that. I hope this will be a good starting point.
—— First, you found a good place you felt good, and then you had a general idea of what you wanted for 'tamaki niime'. So then you gradually clarified the details of how you tried to use it. Am I correct?
Tamaki

It's the same case with the Shop & Lab building, and we have had similar things. At the moment, right before my eyes, "I knew it was the right place."
Sakai

Yeah.
—— You knew it was the right one at first sight.
Tamaki

In that case, we felt it was the right place as soon as we walked in Machida City. The owner also came to Nishiwaki before. He visited Heso Park for business.
An architect, Kiko Mozuna, built the 'Terra Dome' at Heso Park, which was also used the Truss Wall method.
Tamaki

When he built it, he came to Nishiwaki for the work.
—— Wow, that was a great coincidence.
Tamaki

He also built 'Hello Kitty Smile', the Hello Kitty building on Awaji island. Its twisted curves were made of concrete. It's a special technology, and I heard that the builders who have those skills are very rare. One of the reasons why we made this decision is because of his connection with Nishiwaki.
After getting the property, they didn't know when they could open the store because of the pandemic, but they started remodelling and preparing to establish the Tokyo store.
Tamaki

Coming this year, we wanted to open the Tokyo Machida shop. As we wanted to make it a proper centre, we worked on how we should display products and consider how it should be organized.
—— So you have finally decided to use it as a shop?
Tamaki

I wanted to have a place where people could see our products. It's not only for customers but for wholesalers. Because we no longer sell at department stores, and can't sell at some stores any more. I thought it would be better to have one secure location for the future. For customers in the Kansai Region, many could come to the Nishiwaki store. But for customers in Kanto Region who know us through 'Tamask', we thought they need a real shop. In aiming to increase our customers, we thought it would be the best chance to open a shop in Kanto.
—— I see.
Tamaki

The store is about 100 square meters (1076 square feet), but we want to place many items there because we want to make it an exciting place.
—— How do you make arrangements for the placement of products in the store?
Tamaki

The main floor is the second basement for item display. The fabric store is on the first basement floor. On the first floor, there will not only be 'tamaki niime shawls', but we will also be starting to have a 'tamazon' corner.
—— 'tamazon'!!?
Tamaki

It's more like a variety goods shop. It's a platform for various things.
—— I see.
Tamaki

'Tamazon' is a way to help customers by our staff, including myself, to provide information to customers about our favourite products we recommend. Specifically, the products of Hyogo prefecture that may not easily be available in that region, so we hope we can offer information well.
—— What about the fabric store?
Tamaki

The name of the fabric store is 'UmuUmu'. We will start selling fabrics. Of course, we will bring fabrics we made, but we will also collaborate with other weavers to develop original fabrics and bring them to Tokyo.
—— Wow, that's a lot.
Tamaki

We have been working here for a long time, and now we have a hub in Tokyo. I hope that we can deliver good products from Nishiwaki and Hyogo, and we want people to see their value and hope to purchase.
—— I see.
Tamaki

I want to bring fabrics, a variety of goods, our products, and all and want people to get to know them. We have only 40,000 people in Nishiwaki, but they have 400,000 in Machida.
Machida City is located in the southern part of Tokyo, adjacent to the three major cities of Yokohama, Kawasaki, and Sagamihara in Kanazawa prefecture. It was developed as a bedroom community since the 1960s, with the area in front of Machida Station, where the Odakyuu and JR Yokohama lines intersect, becoming a major commercial district. It is also a student town with many private university campuses. Between the residential areas, there are scattered satoyama wooded areas, where suburban agriculture is practised.
Tamaki

When you climb up from the first floor, there is a rooftop and where you can face to Odayuu line. (laugh) It's just by the railroad, feeling like 'Have a nice day!' to them.
—— That's an interesting view. Previously, Ms Mio Fujita mentioned that the products of 'tamaki niime' look differently in different spaces. I think this shop would give a different look from the 'Shop & Lab'.
Tamaki

I think they are completely different.
—— Would you tell me your expectations and thoughts, please?
Tamaki

I have been struggling with it for the past year. That's all I have been thinking about.
Sakai

Yeah.
Tamaki

How do you want to decorate? It's so much fun worrying about it…Mutsumi, do you have pictures?
—— (Looking at pictures of each floor), Ummm, they are great and interesting. They look like a shop and also a gallery.
Tamaki

Yes, they do. We have many deer antlers given by TASHIKA and use them as hangers.
* TASHIKA – A business that develops and produces high-quality, additive-free dog food using locally produced venison in Taka Town, next to Nishiwaki City. Deer antlers are used as hooks on the walls of the second basement floor of tamaki niime TOKYO MACHIDA.
Tamaki

Because of the lack of straight lines in this building, I have a feeling that it is wrong to have normal things here. I removed the regular hangers because it didn't feel right. (laugh) I have been doing things like that repeatedly. (laugh)
—— Ummm.
Tamaki

I think I will make the final decision on how to display, including the launch, as we actually try it out on the spot.
—— This is a very exciting new place to express the 'tamaki niime' world.
Tamaki

We are very excited about it. Thankfully, it's been a year since we opened the online shop. We think it's essential because we are here now because of that. The direct store had been down for a while, but they are doing well now that many customers are coming back to the store. I am thankful that they want to take time to come to the store.
—— I see.
Tamaki

In order for 'tamaki niime' to extend its wings, it's definitely better to have a site for people from overseas when they visit Japan, or it's better to have a place for people in the Kanto Eastern Japan area to get to know us better. This is a kind of challenge. I was so excited about it.
'tamaki niime', the Tokyo based store, is an exhibition space to show each item's attractiveness, which is different from another. It looks like a gallery to make you feel unusual and artistic, but at the same time, I had an impression of home because the building used to be a residence. Creating an atmosphere of personal friendliness must be common in the relationship between one-item products and customers.
—— It looks like a very relaxing place to visit.
Tamaki

When I went there for preparation the other day, the staff came out and said, 'come in and have a seat'. (laugh) There's such a kind of atmosphere.
—— There's a feeling of 'niime house'.
Tamaki

At first, I wanted the second basement floor to be a meditation room. I thought it also could be a kind of a place for detoxing or purifying.
—— That's interesting.
Tamaki

It can be a power spot. (laugh) For me, it's not only for making things, but it's also for how to exhibit, how to sell, and even how to talk. They are all creation for me. It's a fun experiment.
—— I see.
Tamaki

What I was reminded of is to make use of 'what already exists'. We happened to come across this house in Machida and designed it to use it as it was. We did the same thing with the Shop & Lab, right?
—— That's right.
Tamaki

There was originally a building of a dye factory, and we renovated it. It's not only easier for us to use that building, but it's also very important to keep things alive.
—— For the renovation of the direct store, you used shawls for curtains, and made use of other materials you had in stock.
Tamaki

If we try to make it the centre of our activities, we can see many possibilities or challenges. We are looking forward to it.
—— Adding new values without losing the original's identity needs a high-level sense at the same time, and I think it's a very intellectual and creative activity. It's a kind of collaboration.
Tamaki

Yeah, you have to work with original makers.
—— You invite new projects to the original building.
Tamaki

You have to work on adding more histories, not disappearing, but for coming up again. It's so much fun to make the space better while making use of our products.
—— You are absolutely right. Wow, it's so interesting.
Tamaki

Anyway, I would like you to come to see it. As we are preparing, people passing by say hello to us. I hope that the shop will be loved by local people in Machida.
Sakai

Yeah.

Original Japanese text by Seiji Koshikawa.
English translation by Adam & Michiko Whipple.